Once pleated skirts were typical of school uniforms but now it should be back to your wardrobes. However, it should not look like school uniform.
For those who love to stand out and want to look trendy this season, designers advise to choose pleats. They brighten everyone from the grey mass of people and look really feminine and playful.
The Guardian's fashion editor Jess Cartner­-Morley says that ''pleated skirt has long been sartorial shorthand for frumphood. Why, if you're in a movie and you wear a pleated skirt, then no matter how mind-blowingly obvious your beauty, it's a proven fact that the male lead will fail to notice you until you whip off your glasses, shake out your hair and slowly unbutton your blouse.''
Today pleated skirts are especially popular among Hollywood stars. For this we can thank the famous Marilyn Monroe, the first woman who made pleats so fashionable 60 years ago.
Pleated skirts, made from soft, pastel-coloured material may be different lengths. They have been ignored for a long time because of the way their visual design which can make the figure to look bigger. Nowadays, when all are crazy about the ideal slim figure, this type of skirt can wear not many women. However, it seems that solution was found. Pleats, combined with significantly low waistline, make it possible to highlight the slim hips.
Christian Dior Autumn/Winter 2012 Ready-To-Wear
Tory Burch Autumn/Winter 2012
Chloe Autumn/Winter 2012 Ready-To-Wear
How to wear a pleated skirt that the whole outfit would not look cheap and childish? A choice of either a classic pleated high-waisted skirt, made from lightweight fabric, or a pleated detail only for the front of the garment.
If you want to reach a youthful look like Blake Lively, you should choose a shiny (in this case, golden) material and short length. Of course, a long bright-coloured skirt (as Vanessa Simmons) can reach the same effect.
Blake Lively
Vanessa Simmons
Diana Vickers
Miranda Kerr
World-renowned designers such as Christian Dior, Tory Burch and Chloe offer to wear skirts with narrow pleats, Burgundy wine colour but high-street shops are offering many choices as well.
Top Shop
River Island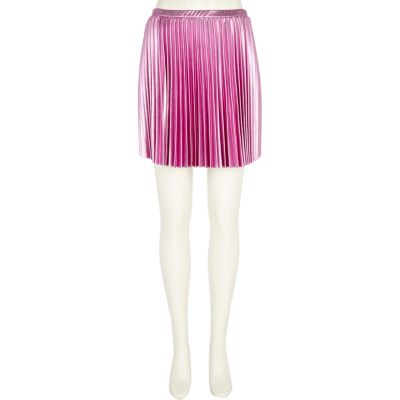 Zara